One of the most beautiful buildings based on Art Deco style, is the Pollera Building located at Avenida Central (Pedestrian Street) and Salsipuedes Street in Panama City, Panama.
It's now old and dilapidated and with an uncertain future, but it was once the jewel of the crown in Downtown Panama.  Now abandoned by its owners, La Pollera has lost its grace and glory.  All the exterior paint has been washed out, and many of its external decorations have been lost. However, La Pollera had a prosperous past.  Its apartments were once occupied by a handful of upper middle class families, with high salaries, which allowed them  to keep the property seductive.
The building was designed by Peruvian architect, Leonardo Villanueva Meyer, assisted by his partner architect, Victor M. Tejeira.  The project was inaugurated in 1928.
The design responded to the so called "Art Deco", an architectural style that was fashionable in the twenties, especially in the United States.  Even as we speak, buildings with this design are preserved in cinemas and shops specially in Miami, Florida.   Art Deco includes a special kind of balconies with a 45 degree angle, outside tile plates and forged iron in its wide range of balconies.
The original name of this captivating building was Edificio Antonio (Antonio's Building), since his owner was  named  Antoine Arboix.  However, the general public, amazed by how attractive the design was, said it resembled a "pollera".  A pollera is the classical women's national dress of Panama. Many people agree, including myself, that it's the most beautiful national dress in the world.  Its flowing skirt, abundance of handwork, and ornate jewelry mark the dress as one of the most beautiful costumes in the world, admired and cherished by all Panamanians.
Over time the name Edificio La Pollera replaced the official name of Edificio Antonio.
I visited what is left of this venerable building two weeks ago.  It's totally vacated, but it's outer shell is still intact.  Of course I was excited to take a few pictures of this famous building of the late twenties.  This is what I saw.  Here we go.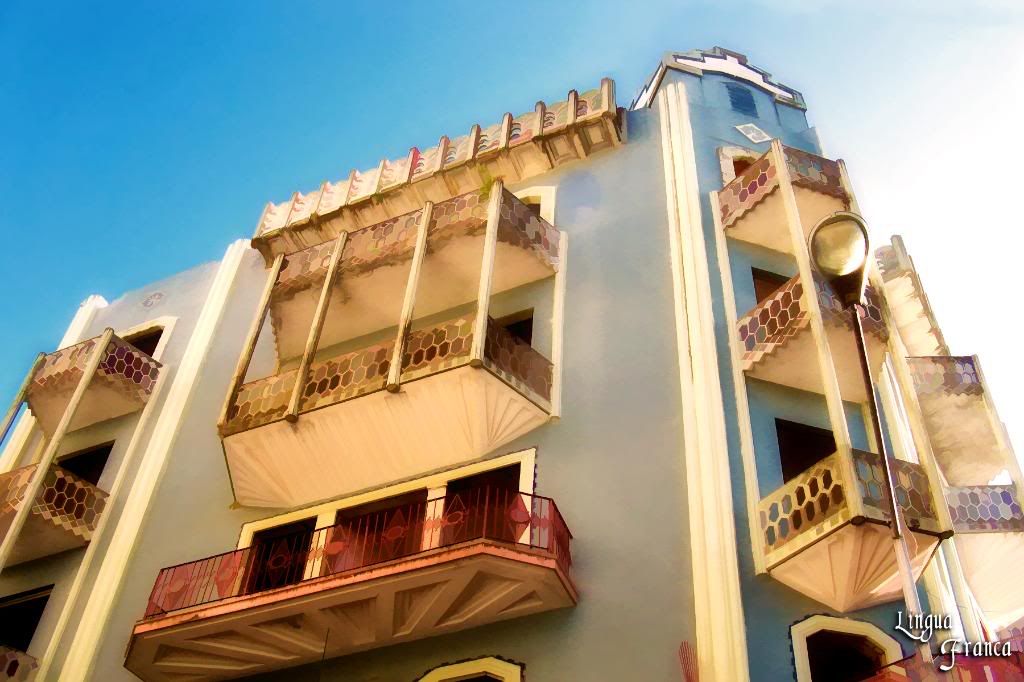 Photograph of a close up view of Edificio La Pollera. Take a good look at its elaborate forged iron balconies. That is a beauty in itself. (Credit: Omar Upegui R./Michael Moore)
And now you know at least one building in Panama, that has the name of a national femenine garment—the Panama Pollera.  Good Day.