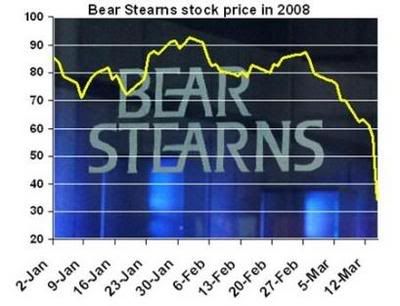 The bears have finally taken over Wall Street chasing the bulls all over the glass-filled room. There's a lot of broken glass around, believe me. For several months, Wall Street has been very nervous, and the Bear Stearn's financial fiasco has made it even worse.
Starting Thursday evening, Bear Stearn's CEO Alan D. Schwartz, placed an urgent call to James Dimon, his counterpart at JPMorgan Chase. He was looking for a bailout desperately. Mr. Schwartz said Bear Stearns was struggling to finance its day-to-day operations, according to several people briefed on the negotiations, a situation that would threaten its survival.
During the week, the mortgage market on the verge of a meltdown, reported a further slippage of consumer confidence and word was spreading like a prairie wildfire that Bear Stearns was having solvency problems. An avalanche of investors, customers and lenders were withdrawing their business and pulling back on Bear Stearns' credit lines. The bank run had begun.
This bank run prompted JP Morgan Chase and the Federal Reserve Bank of New York to step in Friday with an emergency financial package intended to keep the firm afloat. The size and terms of the credit line were not disclosed. JPMorgan will borrow the money from the Fed and lend it to Bear Stearns, and the Fed will ultimately bear the risk of the loan.
It was the first time since the "Great Depression" that the Federal Reserve Bank had rescued a major U.S. investment bank in a bid to soothe financial markets roiled by fallout from rising sub prime mortgage defaults. Bear Stearns made many mistakes in placing mortgage loans to people with a poor credit history. Now they are paying the price.
The 28-day emergency line of finance on Friday came just two days after Bear, which had been hard-hit by its heavy exposure to the faltering U.S. mortgage market, dismissed market rumors of a cash shortage and said it still was a healthy player in the global web of trading and finance. That wasn't so.
Needless to say inside Bear, the fifth largest U.S. bank, and on Wall Street, the future looks grim. "The mood is somber," said one Bear Stearns equities salesman. The buzz at the firm was that there could be a takeover deal as soon as Monday, he said.
News of the bailout ignited fears that other big banks remain vulnerable to the continuing credit crisis, and stocks tumbled in another rocky day for the markets. Financial shares led the way, with shares of Bear Stearns plunging 47 percent. Hours after the rescue was announced, another Wall Street firm, Lehman Brothers, said it had secured a three-year credit line from banks. Its stock fell 15 percent.
Yup, rough times lies ahead. The bears are on the loose and Wall Street is having difficulty sleeping. Be careful and hang on to your wallet—keep it tight.