If you have been looking for a good small accounting package, but your pocket is still in great pain after the Holidays, no problem.
Here's a good business deal and no catch: pay $139.99 for Peachtree Pro Accounting 2008 now, and get a $140 rebate in 4 to 6 weeks.
Thank Staples for this eventual freebie, but don't wait to take advantage: the rebate deal expires January 12. Please click the Staples link to take advantage of this promotion.
Peachtree by Sage Pro Accounting 2008 improves the productivity of your small business with standard accounting features that help you do the basics and much more. Automate your invoices, checks and employee payroll. You can record customer payments, create budgets and track sales, inventory and expenses. Save time with simplified navigation, enhanced integration with Excel, multi-tasking screens and comparative budgeting capabilities.
Peachtree Pro Accounting provides general ledger, accounts payable and receivable and more than 100 reports and financial statements. First-time customers receive 30 days of free support. It's ideal for people who want accuracy and control, so they can achieve better business results.
Go ahead and make your day!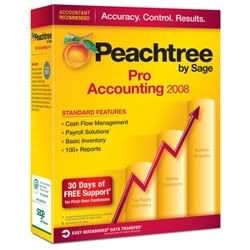 Credit: Sage Software